PICTURES OF ADOLF ENGLER'S (1844-1930) HOUSE AND GRAVESITE IN BERLIN:

Engler (25 Mar. 1844 - 10 Oct. 1930) was director of the Botanischer Garten in Berlin from 1898-1921, when he retired. While in Berlin Engler lived in this magnificent house, which survived intact the bombing ravages of World War II. The house is located at 2 Altensteinstrasse just west of the main entrance on Königin-Luise Strasse. Engler and his wife Marie (1854-1943) are buried on the grounds of the botanical garden near this entrance.

Reference:
Lack, H. W. 2000. Botanisches Museum Berlin: Adolf EngleróDie Welt in einem Garten. Prestel, München (series: Prestel-Museumsführer Compact, unnum.). 72 pp., ill. (most col.), col. ep. maps, 191x116 mm.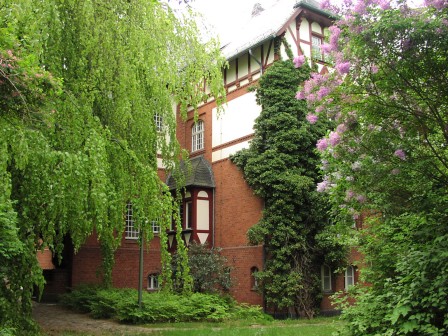 Fig. 1 (left): The house where Adolf Engler and his wife lived on the grounds of the Berlin Botanical Garden. The conspicuous tree at the left is Tilia platyphyllos (large-leaved lime) (Tiliaceae).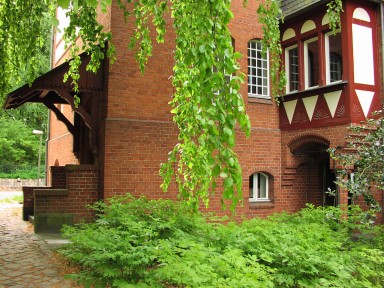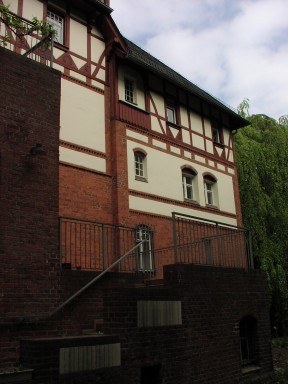 Fig. 2 (left): Closeup view of the front side of the house facing the street. The front door is at the left.
Fig. 3 (right): View of the east side of the house facing the Botanical Garden.





The inscription reads:





ADOLF ENGLER

1844 - 1930

MARIE ENGLER
Geb[orene] FIRLE

1854 - 1943
Fig. 3: The Engler gravesite, also on the grounds of the Berlin Botanical Garden.

Photos taken 7 May 2003 by Mena Schmid (Olympus c2040z, digital).
Return to Rudi Schmid's Home Page
Last revised: May 2010