PICTURES OF AGNES ARBER AND HER MILIEUS: Her residence (1909-60) in Cambridge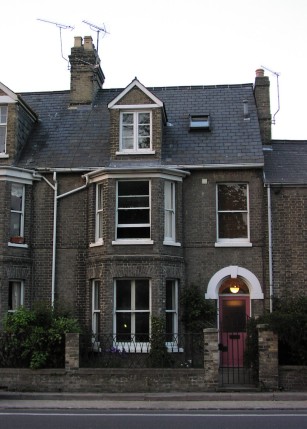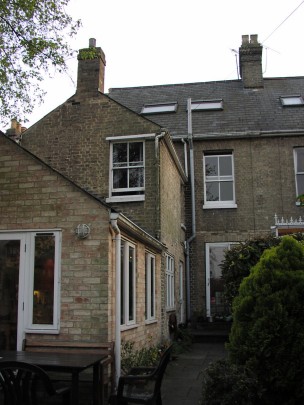 Fig. 1 (left). Looking east at 52 Huntingdon Rd., Cambridge, the rented home of Agnes Arber from 1909 to 1960 and Edward Alexander Newell Arber from 1909 to 1918 (after their marriage on 5 Aug. 1909). The living room has the bay window to the left of the front door and entry. Above the living room is the main bedroom, where their daughter Muriel Arber was born in July 1913 and Newell Arber died in June 1918. To the right is Newell Arber's "dressing room," which after his death became a small storeroom. The attic room was the nursery, then a bedroom, and finally another storeroom. Newell Arber installed the large letter slot on the front door; the letter slot was reinstalled on a new door after Agnes Arber's death in 1960. Early during World War II the original cast-iron fence was removed by the authorities for scrap for the war effort. The house was not wired for electricity until 1961. The skylights, of course, are modern.
Fig. 2 (right). View of the rear of 52 Huntingdon Rd. showing Agnes Arber's lab (upper left), which until 1927 was a servant's room and which is positioned over the kitchen. The dining-room addition (foreground) was added in the 1980s.
Photos taken 22 and 23 April 2003 by Mena Schmid (Olympus c2040z, digital).
Fig. 3. Medium telephoto view from Westfield Lane showing Agnes Arber's lab. By April 2003 vegetation had obscured this view.
Photo taken 27 May 2000 by Rudolf Schmid (Nikon F3, scanned slide).
Fig. 4. View of the back yard at 52 Huntingdon Rd. The brick structure was added after 1960 by a later resident.
Photo taken 23 April 2003 by Mena Schmid (Olympus c2040z, digital).
Many thanks to the current residents for their hospitality and for giving us a tour of the house on 23 April 2003.
Return to Women Scientists Page
Return to Rudi Schmid's Home Page
Last revised: June 2003.