PICTURES OF AGNES ARBER AND HER MILIEUS: Her gravesite at St. Andrew's Parish Church, Girton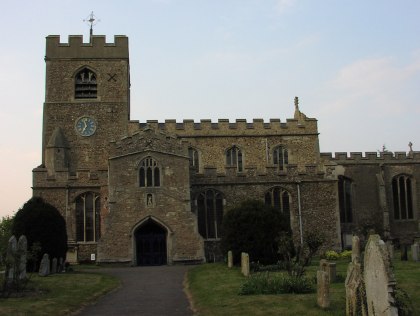 Fig. 1. Looking north at St. Andrew's Parish Church (about 700 years old) in Girton, Cambridgeshire, the site of Agnes Arber's and Newell Arber's funerals. St. Andrew's fine website offers a guided tour and a rather detailed history of the church and its grounds, but does not mention the Arber gravesite. According to the church's website, "this view has remained virtually unchanged from 500 years when the last major rebuilding was completed"; the church is in "Perpendicular Gothic style." The Arber gravesite is in the northeastern part of the churchyard at the rear of the church. Inside the church on the north wall is a plaque commemorating Ethel Sargant (published reports that she is buried at St. Andrew's are erroneous).
Photo taken 22 April 2003 by Mena Schmid (Olympus c2040z, digital).





The inscription reads:

In memory of

EDWARD ALEXANDER NEWELL ARBER
M.A. Sc.D. Trinity College, Cambridge

Born August 5, 1870
Died June 14, 1918

and of his wife
AGNES ARBER

Born February 23, 1879
Died March 22, 1960
Fig. 2 (left). Looking east at Muriel Agnes Arber (21 July 1913–10 May 2004) standing by the grave of her parents and a tree of Aesculus x carnea (red horse chestnut, Hippocastanaceae). The engraved part of the tombstone faces east toward a playing field (the Recreation Ground Pavilion).

Fig. 3 (right). The Arber tombstone, which was refurbished in 1960.
Edward Alexander Newell Arber, born in Bloomsbury, London, died in Cambridge, age 47
Agnes Arber, born in Primrose Hill, London, died in Cambridge, age 81
Muriel Agnes Arber, born in Cambridge, died there, age 90.

Photos taken 27 May 2000 by Rudolf Schmid (Nikon F3, scanned slides).
Return to Women Scientists Page
Return to Rudi Schmid's Home Page
Last revised: Feb 2005