PICTURES OF BEATRIX POTTER: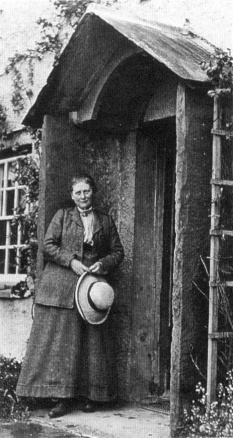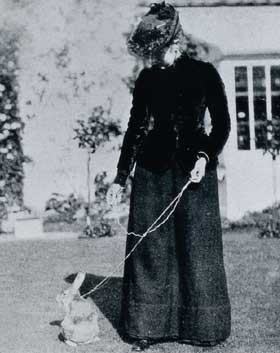 Fig. 1 (left). Beatrix Potter (Helen Beatrix Heelis, née Potter) by the back door of Hill Top (photo summer 1913)
Fig. 2 (right). Beatrix Potter with pet rabbit, Benjamin Bouncer (photo Sep. 1891)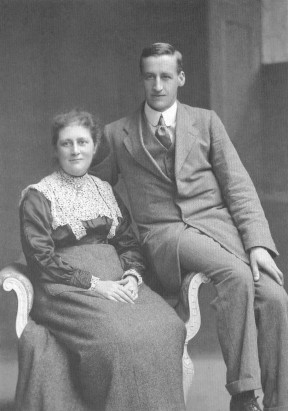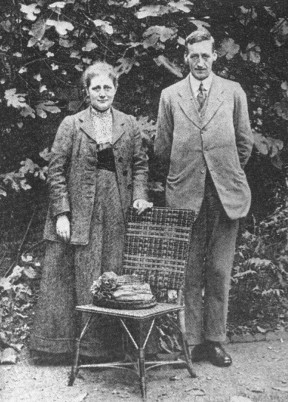 Fig. 3-4. Beatrix Potter (1866-1943) and solicitor William Heelis (1871-1945) on their engagement day (late 1912) and wedding day (14 Oct. 1913)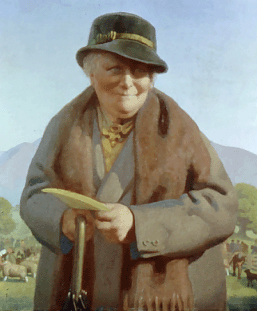 Fig. 5. Beatrix Potter in her early 70s as depicted in a painting done in 1938 by her friend Delmar Banner. Beatrix is holding a show catalog for the judging of Herdwick sheep, which are shown in the background. In 1943 she was elected president of the Herdwick Sheepbreeders' Association but died on 22 Dec. 1943 at age 77, before taking office.
Sources of pictures:
Fig. 1: Taylor, Judy. 1986. Beatrix Potter: Artist, storyteller and countrywoman. Frederick Warne, Penguin Group, London. (Page 110.)
Fig. 2: Same as Fig. 1. (Page 53.)
Fig. 3: Denyer, Susan. 2000. At home with Beatrix Potter: The creator of Peter Rabbit. Harry N. Abrams, Publishers, New York. (Page 34.)
Fig. 4: Taylor, Judy. 1989 (1996 revision). Beatrix Potter and Hill Top: Cambria (cover subtitle: An illustrated souvenir). The National Trust, London. (Page 11.)
Fig. 5: From chocolate-bar wrapper (picture copyright National Portrait Gallery–similar picture on page 137 of: Denyer cited for Fig. 3.)
Return to Women Scientists Page
Return to Rudi Schmid's Home Page
Last revised: Apr 2007