PICTURES OF ETHEL SARGANT AND HER MILIEUS: Girton College

Girton College is Cambridge University's oldest women's college (founded 1869) and is located between the intersection of Huntingdon Rd. and Girton Rd., about 2.5 miles (4 km) northwest of the center of Cambridge. Compared to Newnham College (founded 1871), the other old woman's college of Cambridge University, Girton is more isolated from the main facilities of the university. This "deliberate isolation--a 'cordon sanitaire' of green fields" (Ian Jackson, pers. comm. to R. Schmid, 12 Aug. 2001) for this "college for ladies"--was a significant inconvenience, especially before the introduction of bicycles in the 1890s or automobiles after that. "In the late Victorian period Girton was certainly very self-contained. ... Bicycling did not become respectable for ladies till 1894 and the bus service did not reach Girton till 1919" (B. Megson & J. Lindsay, 1961, Girton College, 1869-1959: An informal history, p. 40-41). Girton College went coeducational in 1977.

Ethel Sargant (1863-1918) attended Girton College for four years (1881-85).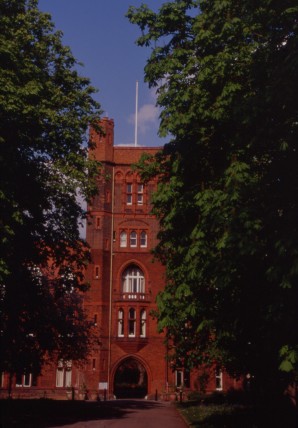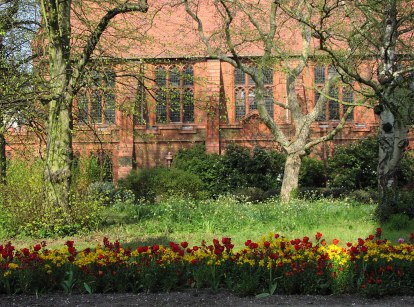 Fig. 1 (left). Entryway tower at Girton College, Cambridge University.
Fig. 2 (right). Courtyard at Girton College.
Photos taken 22 April 2003 by Mena Schmid (Fig. 1: Nikon FG, scanned slide; Fig. 2: Olympus c2040z, digital).
Return to Women Scientists Page
Return to Rudi Schmid's Home Page
Last revised: June 2003.